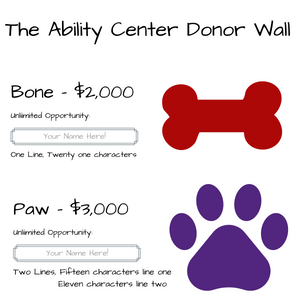 Donation - The Ability Center Donor Wall
Regular price $0.00 $2,000.00 Sale
Donor wall sponsorships will be visible in the new Ability Center located next to 4 Paws!  This facility currently houses our littlest puppies and is used for socialization and training of puppies ages 0-12 weeks, while 4 Paws continues fundraising for our campus expansion, including the future 4 Paws Puppy Enrichment center.  Future plans for The Ability Center include space for specialized and advanced training of dogs in our program.

A paw or bone can be purchased in honor of you, a friend, or family member, just because or for a special occasion!  
Character limits:
Bone - 1 line containing 21 characters
Paw Print - 2 lines containing 15 characters on line one and 11 on line two.
Want to go visit the campus expansion sponsorship page?  Click here.