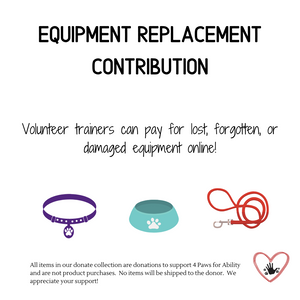 Equipment Replacement
Volunteer trainers can now provide payment for lost and damaged equipment online. Please know that NO ITEMS WILL BE SHIPPED - this listing is exclusively to help volunteer trainers quickly and easily pay for lost and damaged equipment either when returning supplies or when being handed a replacement item by a 4 Paws SDIT Team Member or SDiT class instructor. 
For questions about equipment and fees, please see the canva course or speak with the 4 Paws SDiT Director. 
Common replacement fees are:
Tags ($3)
Leash ($10)
Collar ($7)
Easy Walk ($15)
Bowls ($15)
Kennel ($150)
Vest ($20)
Forgot your leash and collar at pick up? A leash and buckle collar can be provided for $10.
Thank you for caring for our puppies and ensuring they are properly equipped :)